I thought long and hard about what I wanted to do for the Blog Advent Tour, hosted by Marg of Reading Adventures and Kailana of The Written World. After some debate, I decided to show you guys a few pictures that highlight my very favourite holiday tradition: my tree.

I apologize for the poor quality of the pictures. I'm a rather shivery girl around this time of year, and my camera is uber-sensitive to movement.



I'm tree crazy. Seriously, folks, ain't nobody allowed to come between me and my tree. I put it up right at the beginning of December, and I have a blast with it. I assemble the whole thing, turn on the lights and make sure each ornament is arranged in just the right way. The sparkly ones have to be nice and close to the lights so they'll reflect them. The tinsel has to drape just so.

Once I have everything arranged to my liking, I turn off all my lamps and sit there in the dark with my tree. This is my favourite holiday tradition by far. The tree provides just enough light to read or write by. I'll often open my blinds, too, so I can see the winter sky. I'm not sure how it is in other parts of the world, but our winter skies glow. I'm talking full-on, illuminated-from-within glowing, too, not just an overlay like the Northern Lights. I wish my camera could capture it. It's absolutely gorgeous.






But on with the ornaments! This little guy is one of my oldest and rattiest; I've had him since I was a baby. When I was very small, I used to hang him on the little tree I had for my bedroom. He's part of a set of very cheap Japanese ornaments; his compatriots include an elephant, a sitting mouse and a rocking horse. Most of them lost their hangers ages ago, but I still sit them on the branches.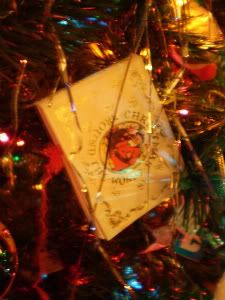 My little book of Christmas traditions from around the world is another favourite. I used to mark advent by reading about a different tradition every day. I was particularly taken with Saint Nicholas Day, (aka Dutch Christmas), and my interest in the holiday sparked a family tradition. I'm of Dutch descent on my grandmother's side, and now my family celebrate Saint Nicholas Day every year. The book has a fancy embossed cover, gold page edgings and a ribbon bookmark. (Y'all know how much I love the ribbon bookmarks).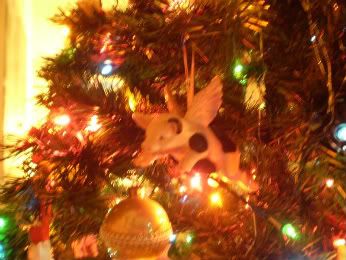 What would Christmas be without a flying pig? This dude isn't actually a Christmas ornament, but I figured the tree was the best place for him. I try very, very hard not to buy random crap, but I do like searching for books and craft supplies at rummage sales. Sometimes I find other things, too. I caught site of Pig as I passed by one girl's table. "That's so cute!" I squealed.

(Yup. I'm a squealer. I'll understand if you don't wanna come by la blog anymore).

She scowled. "Everyone thinks my pig is cute, but no one wants to buy him."

"Well," I said, "I'd like to buy him, but I don't think I have any use for a flying pig."

Then I realized that that wasn't true. I mean, really: who doesn't need a flying pig? So I shelled out $0.75 and brought Pig home.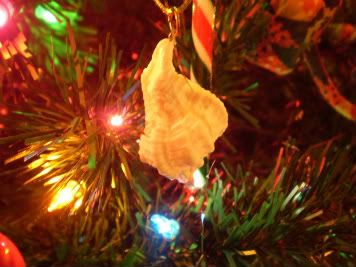 Many years ago, my aunt decided that she and I ought to have a Christmas Tradition. To that end, she converted a whole ton of beautiful shells into ornaments, with the intention of giving me more ornaments every year. The tradition lapsed pretty quickly, but I still treasure the shells. Most of them are (tastefully) embellished with fancy cord and fake jewels, (you can see one in the background of the dancing mouse picture above), but this one is so beautiful that it speaks for itself. It's by far my favourite.




I'll leave you now with one clear(ish) picture highlighting a vintage glass ornament I purchased from a thrift shop, a blue shoe ornament my aunt made, and a reindeer a friend gave me. Happy holidays! And make sure you visit the other bloggers participating in the tour today:

Jane from life & times

Debbie from Friday Friends Book Blog

Cari from Book Scoops